Dreamscaper

Developer(s)

Afterburner Studio

Publisher(s)

Afterburner Studio

Release date(s)

August 14, 2020

Genre(s)

RPG, Rogue, action, mystery

Mode(s)

Singleplayer
System requirements

OS: Windows 7 64-bit
Processor: Intel Core i3
Memory: 2 GB RAM
Graphics: GeForce GT 640
DirectX: Version 10
Storage: 3 GB available space
About
[
]
Dreamscaper is an ARPG Roguelite blending elements from brawlers, top-down shooters, and dungeon crawlers. Every slumber is a different dungeon in an ever-changing world with a multitude of unique events and challenges. Play as Cassidy, dive into her subconscious and take on the surreal nightmares she wrestles with in order to save her from a dark fate.
Features
[
]
Lean into the nightmares and make the rush of permadeath your ally.
Use lucid powers to manipulate the elements, warp space, and even control time itself.
Battle bosses that embody Isolation, Fear, Negativity, Loss and more.
Upgrade a multitude of surreal items and discover powerful artifacts.
Live Cassidy's waking life and uncover the mystery of her story.
The Developers
[
]
Dreamscaper is developed by the independent Afterburner Studio, which are: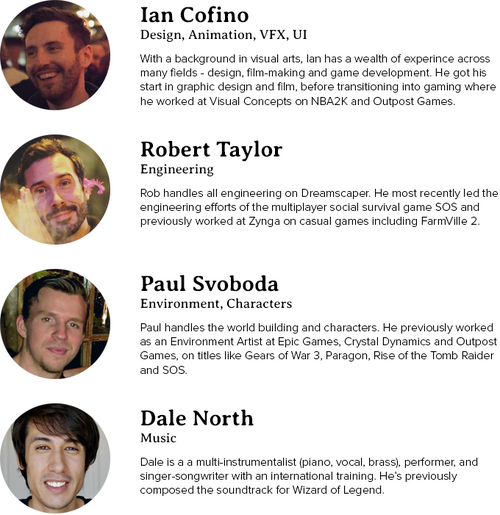 They are working from San Francisco, California and Canada.
Game support
[
]
Dreamscaper Wiki is focused on creating the definitive guide to Dreamscaper. However, while we make an effort to be complete, we are not an official game support channel.
The official game support channels can be found here:
Save Location
[
]
%USERPROFILE% \AppData\Local\Dreamscaper\Saved\SaveGames
<Steam-folder>/steamapps/compatdata/1040420/pfx/
Official pages
[
]
Trivia
[
]
"Dreamscape" also stands for "lucid dreaming".
"Dreamscaper" (2016) - is also a belgian Sci-Fi short-film.
There are two Sci-Fi movies with the title "Dreamscape" from 1984 and from 2007.
"Dreamscape" is the title of various songs or albums by various artists
"Dreamscape" is a progressive german metal band
"Xiaolin Showdown" had an episode called "Dreamscape" (2004), "American Dragon: Jake Long" also titled an episode like that in 2006
The mystery show "Fringe" had an episode in season one, which also was called "The Dreamscape"
"Dreamscape" (2007) - is also the title of a play by Rickerby Hinds
"Dreamscape" also is a plugin for Autodesk 3ds Max
"Dreamscape" (2011) is a video game developed by Speedbump Studios for iOS devices
Dreamscape is also the title of a 2D JRPG video game published by Degica 2015.
Various companies use the name.